Handling Your Sandbag Services
Protect your property from harsh weather conditions with erosion control supplies from LA County Sandbags. Throughout California, we offer businesses and residents erosion control products and installation services. We understand the importance of keeping your property maintained, which is why we provide our convenient products including sandbags, silt fencing and more to the community.
Whether you need a large or small order filled, you can count on our fleet of trucks to provide same-day services (depending on availability). Sandbags can be filled with your choice of sand, 5/16 Birdseye gravel, 3/8 pea gravel, or ¾ gravel. Depending on the needs of the customer, (i.e. construction site or residential) will determine what type of material is used in the sandbag. For example sand helps stop and divert water, whereas gravel allows water to pass through slowly. Palletized  or supersack sandbags are available depending upon order quantities and customers' capability to unload the pallets/supersack.
We maintain a substantial supply of filled bags in our yard to meet immediate orders. We strive to ensure our customers are always getting the bags they need, when they need them.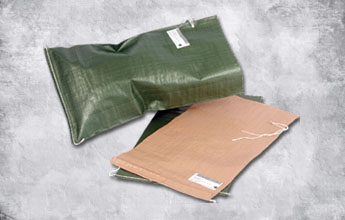 Each empty polypropylene bag is 14" by 26" and has a standard of 1,600 to 2,000 hours of UV protection from the deteriorating rays of the sun.
Our standard colors are dark green and beige. The dark green is ideal for a gravel and beige is used for our standard sandbag. Other color options are available upon special request. We also offer burlap bags, high strength sandbags, and can take special requests.